These days it seems so many people associate decorating with plates with the "stuffy" Old English look of yesteryear.  (Which I still love, by the way and see it as cozy and charming rather than stuffy.)  But, you can be as fresh and fun and hip as you want to be by using certain colors, shapes and patterns.
Mix and match bold colors and patterns with traditional plates for a younger, hipper look. 
You can even create a more contemporary wall by grouping the plates in a fun, free-flowing form like this.  Notice the fun colors and patterns here?
See what a striking impact grouping these black and white plates have on this space?  They make a statement.
And, here this teal grouping makes an entirely different statement, creating an entirely different vibe…beachy, serene. Fun, huh!
You can go colorful….
Literally…make a statement…..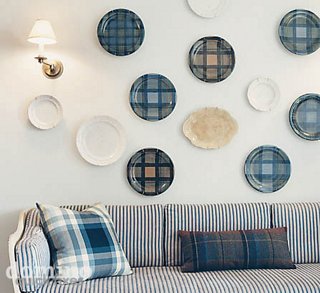 You can even give it a touch of masculinity by using certain colors and patterns if your sweetie wants you to tone down a "feminine overload".
I, however, love a feminine room like this…..girlie and warm and inviting.
And, plates are a fun thing to collect and an inexpensive way to decorate a wall or just bring in some charm.
Layering them on a fun piece like this is another charming way to display them. Try an old door, a fence post, old window pane, etc….
Or use traditional plates to create a fun "art form" to create a personalized look in a cozy bedroom like this….
The personality on simple white plates changes just by changing out the ribbon from turquoise…
To lime green.
Notice the random placement and pulling in the blacks and browns with the pinks?  You can do almost anything with a plate collection.
Even use them as a border in your garden like this homeowner did!  Ha!  How fun is that? Now that's creative!
So don't think decorating with plates has to look too "grandma-esque"…… (And I can say that because I'm a grandma!!) You can be as hip and fun and creative as you want. 
And, you can have tons of fun hunting for and finding new plates at great prices and coming up with new ways to display them. 
Happy Decorating!